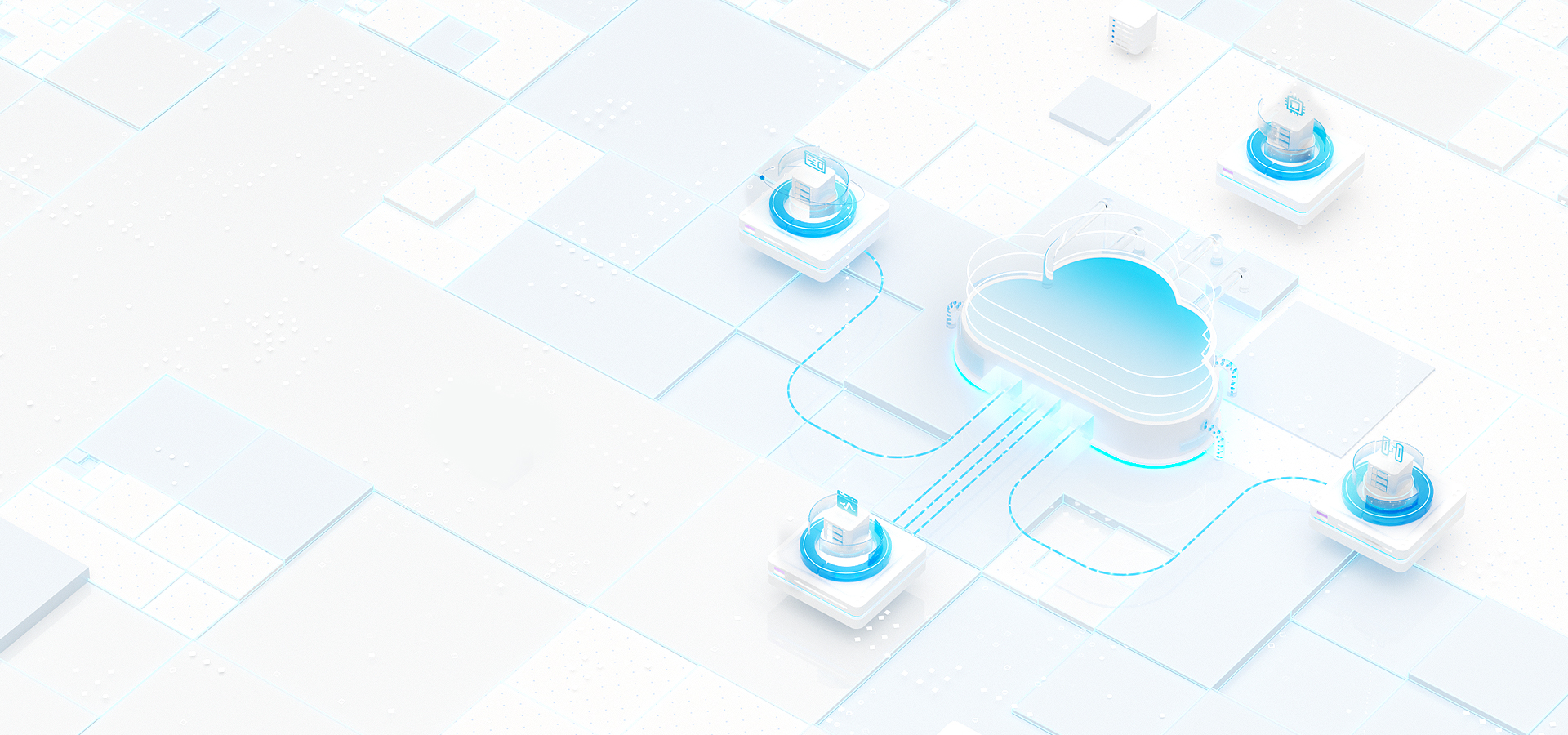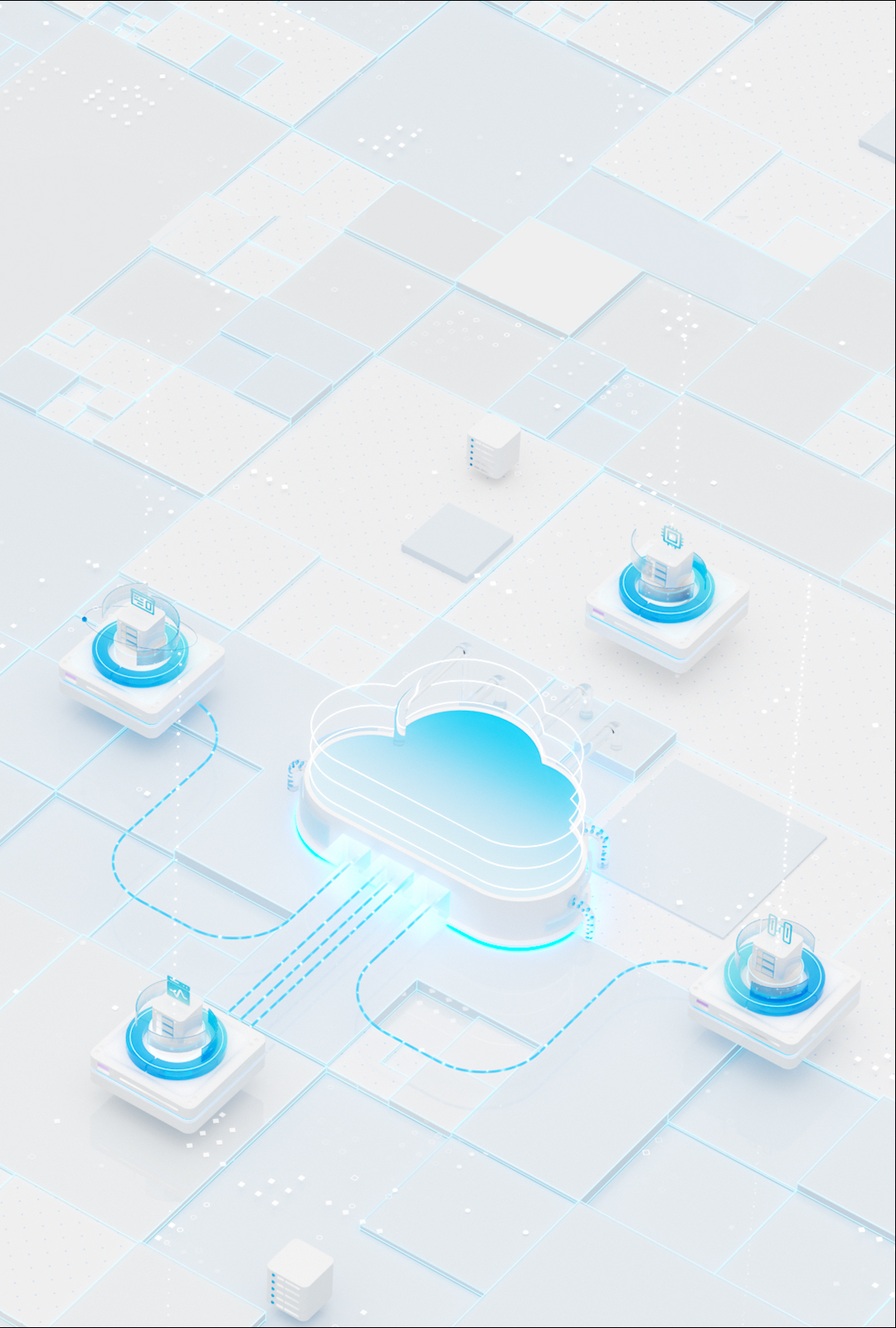 UBTECH Healthcare
Cloud Platform
Multiple Segments. Integrated Platform. Creative Service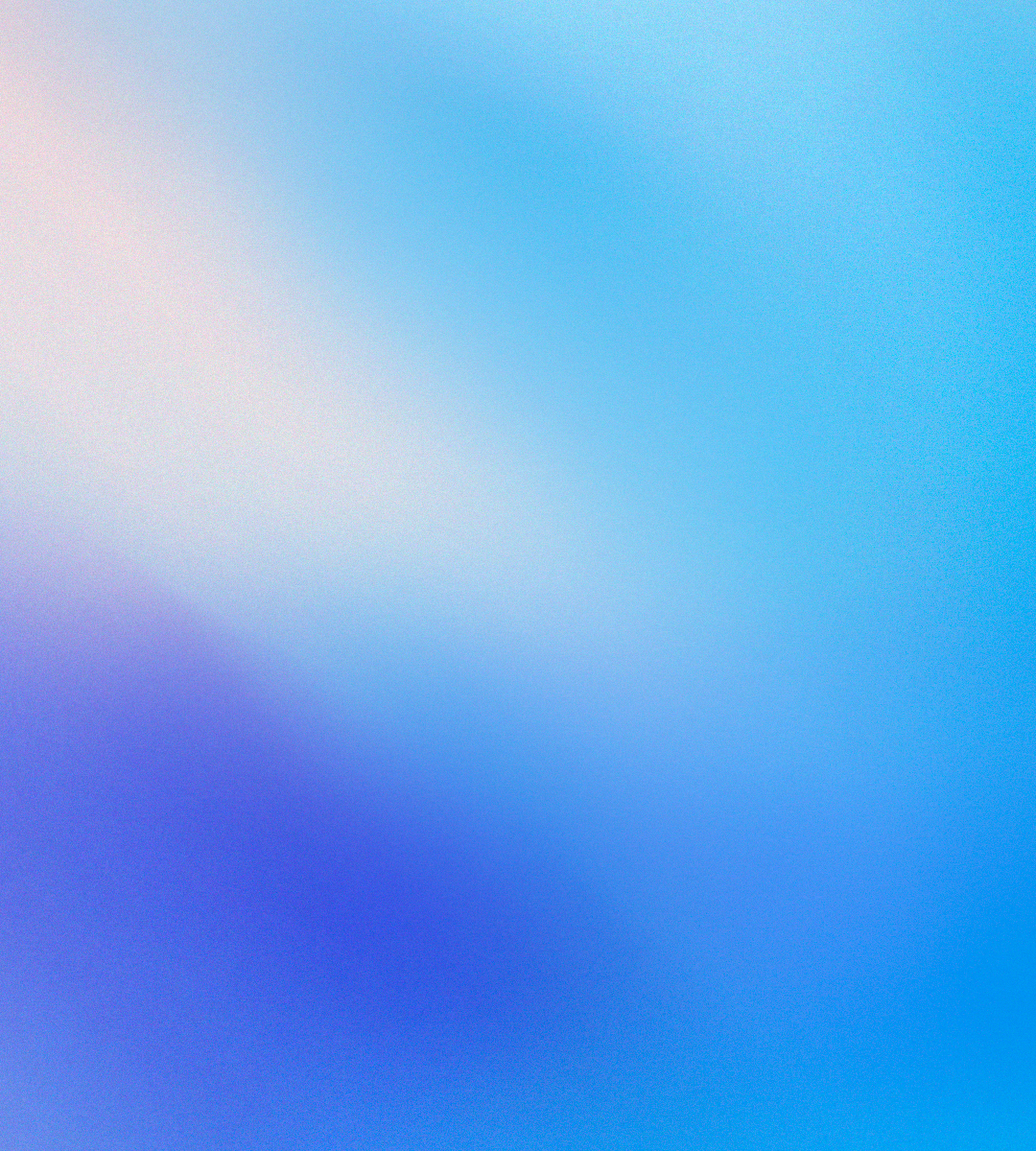 Integrated Smart Elderly Care Service Platform
The Intelligent UBTECH Healthcare Cloud Platform serves as the centralized system for a wide range of healthcare solutions and integrated AI robots and smart devices into nursing homes, retirement communities and hospitals.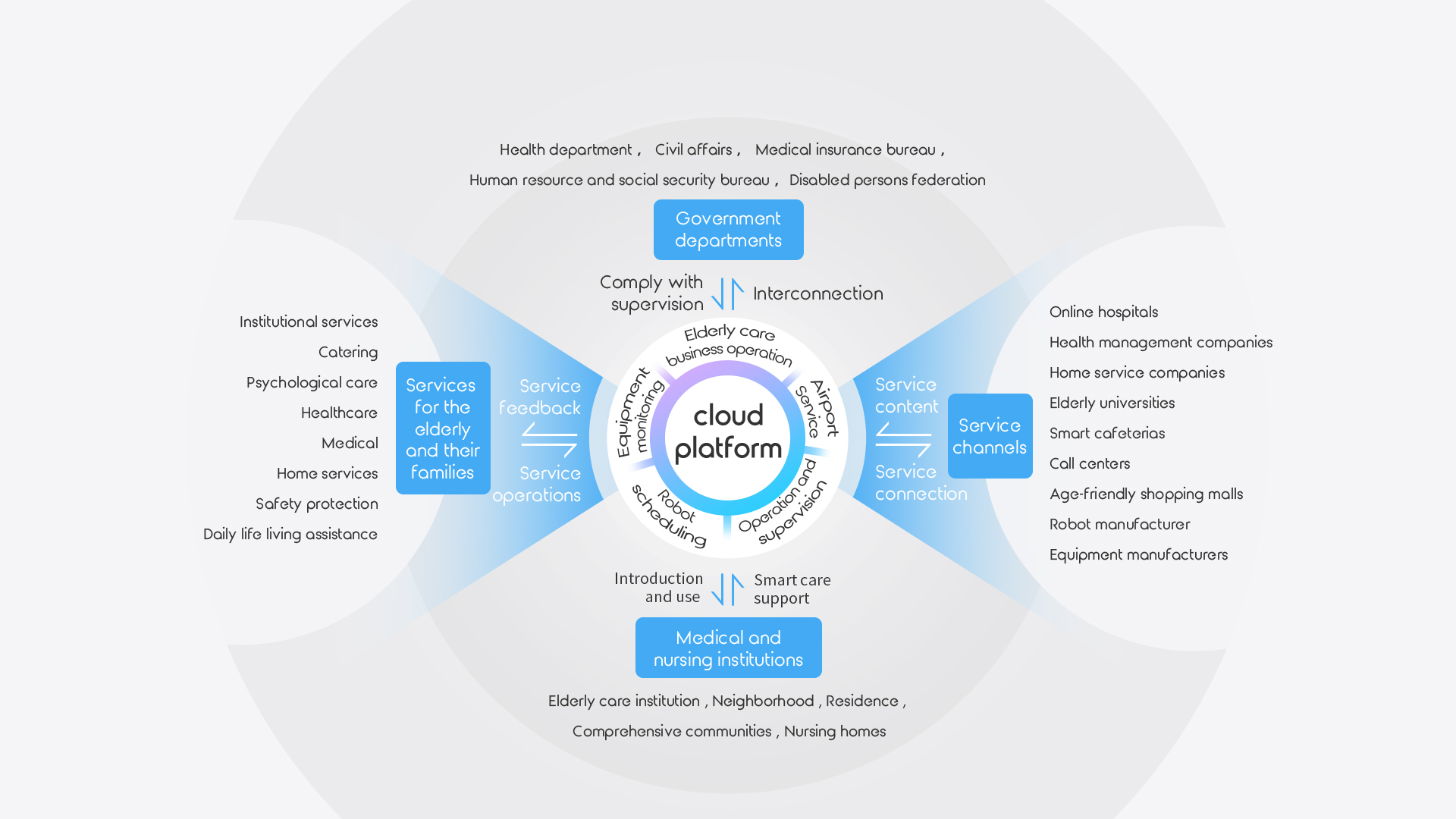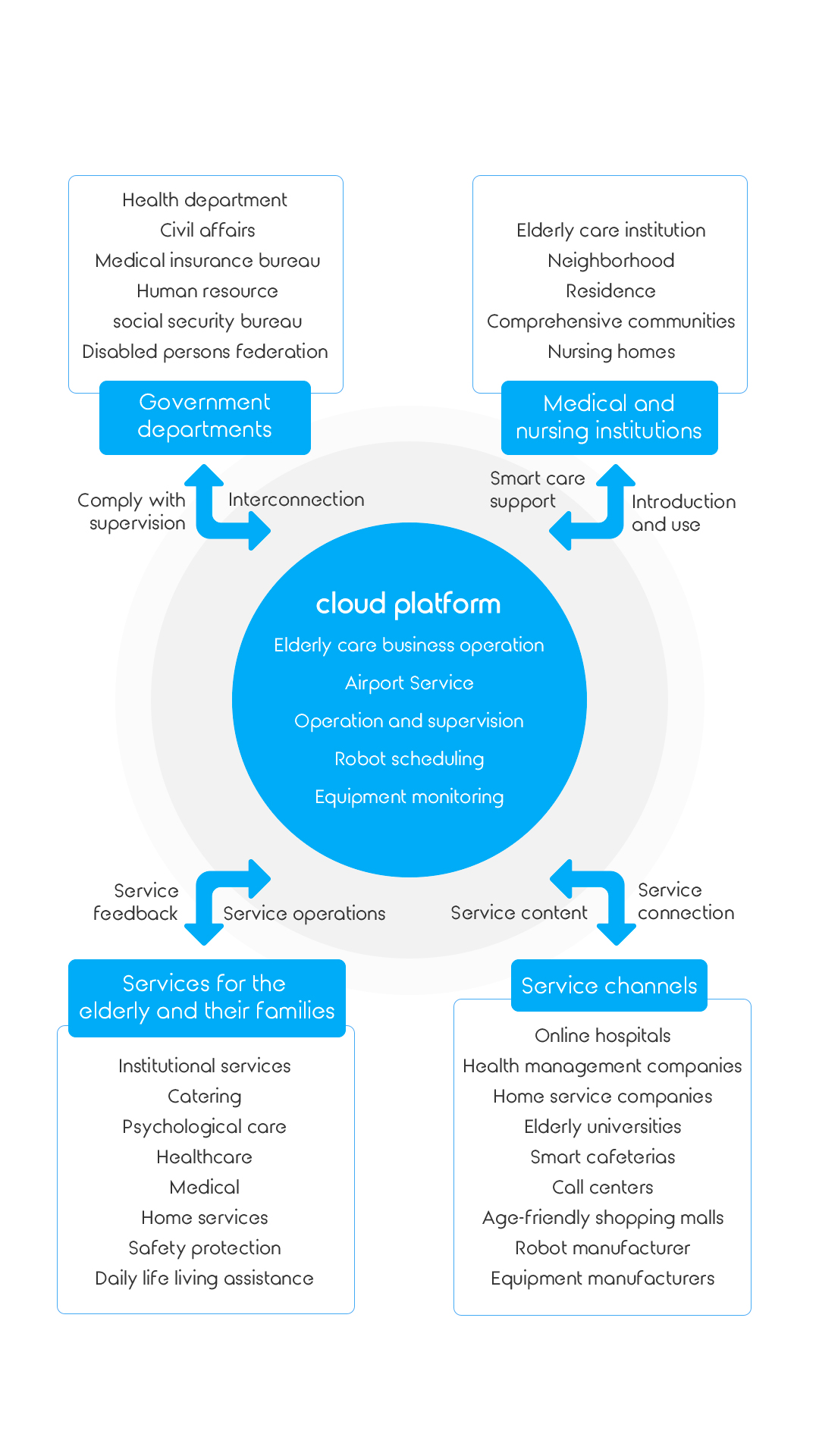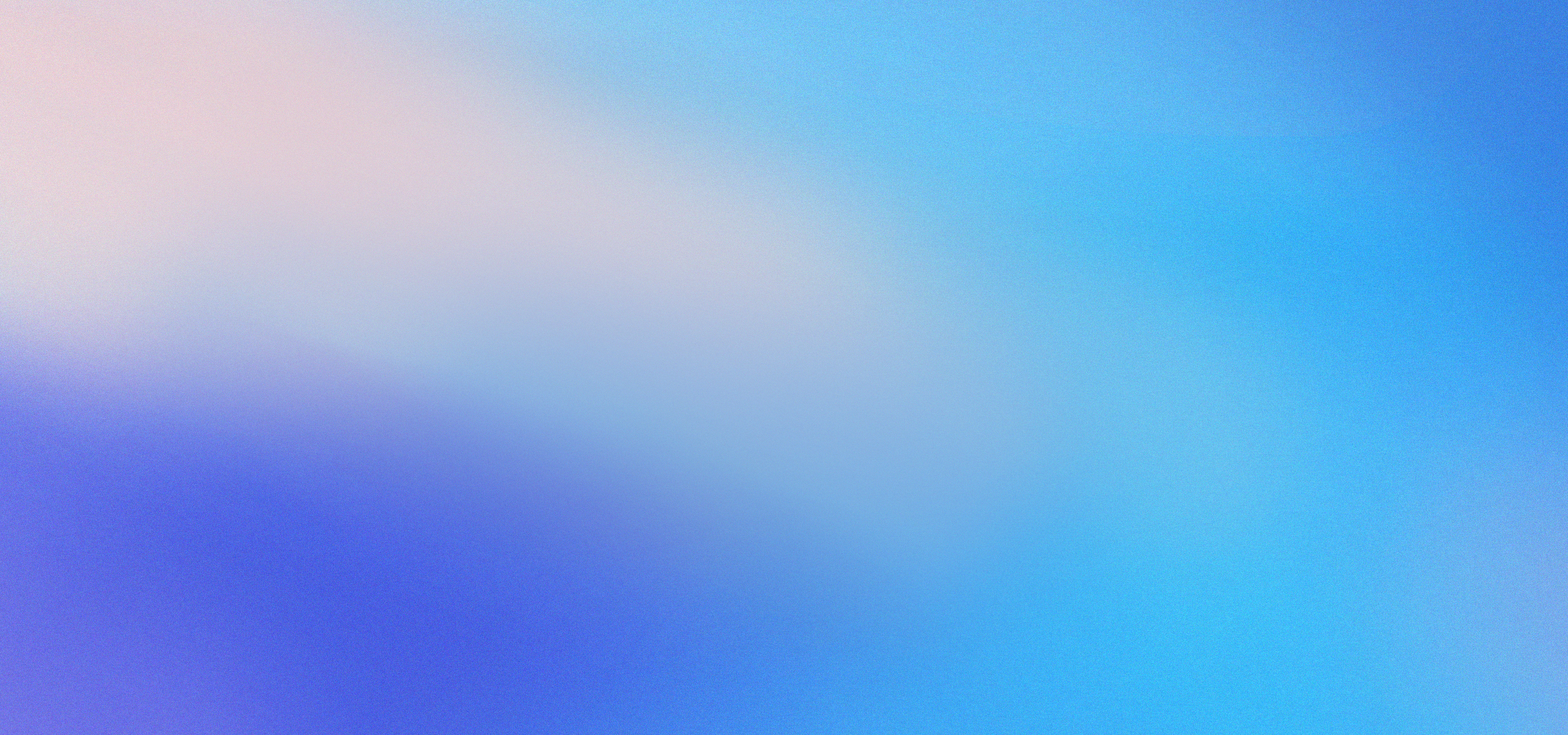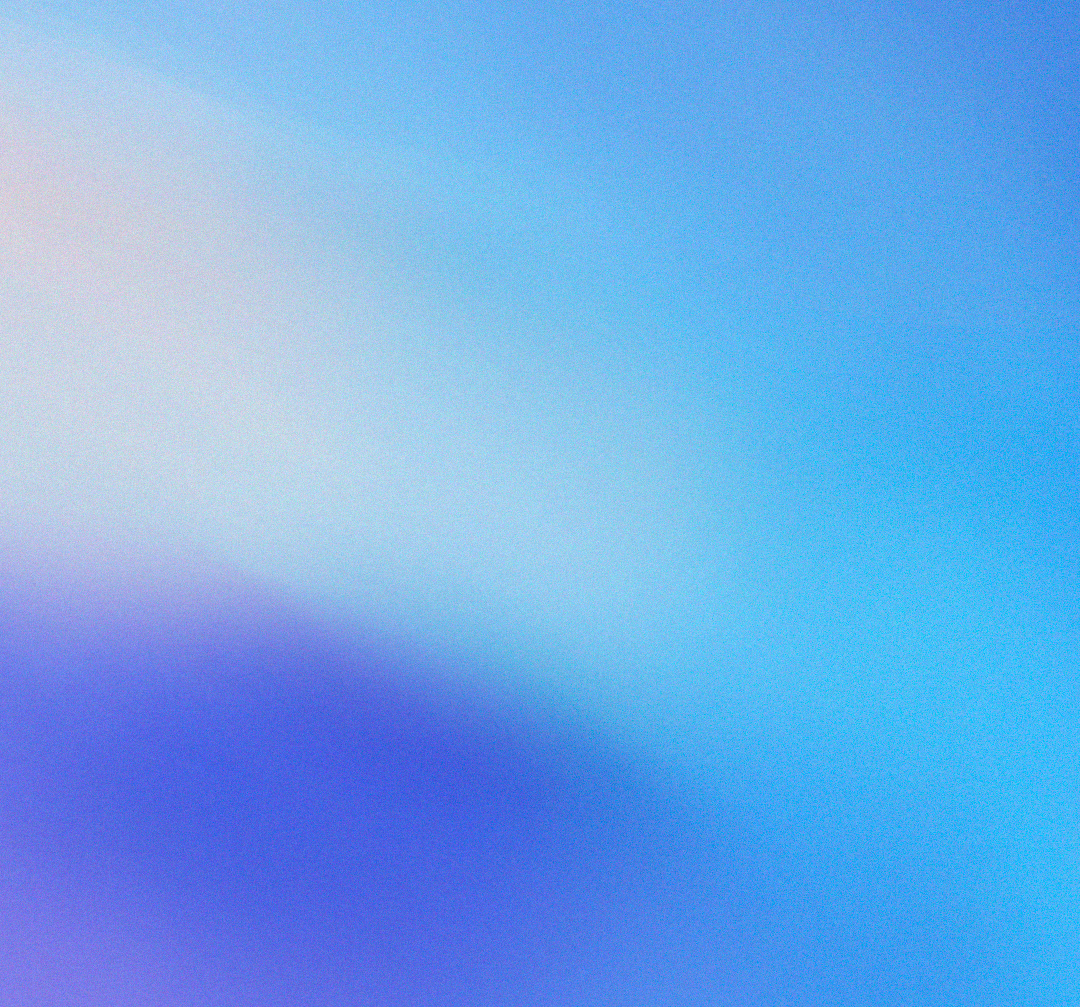 Core Functions
Designed for the most imperative service requirements
Visualization of Robot Fleet Management

Remote Control and Patrols

Smart Task Assignment

Smart and Efficient Operations

24/7 Support

Multi-terminal Notifications

Digital Health Management
Visualization of Robot Fleet Management
Unified 2D/3D User Interfaces (UIs) fulfill the requirement for real-time monitoring of robot position and status. Dispatch instructions can be issued directly on the map, and the robot's movement trajectory can be monitored.

Visualized risk alarms activate when a risk is detected. The system will flag the risk location on the map and generate warnings.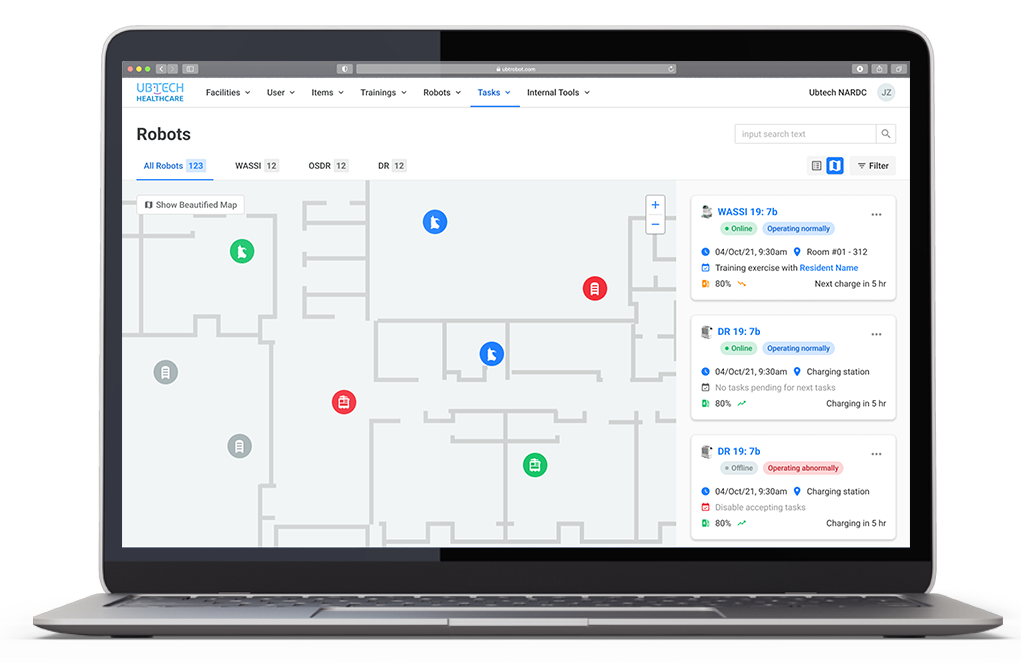 Remote Control and Patrols
The cloud platform enables remote control of robots, granting users the ability to perform a wide array of operations. From configuring settings to controlling robot orientation, users have full control over the robots through the cloud platform.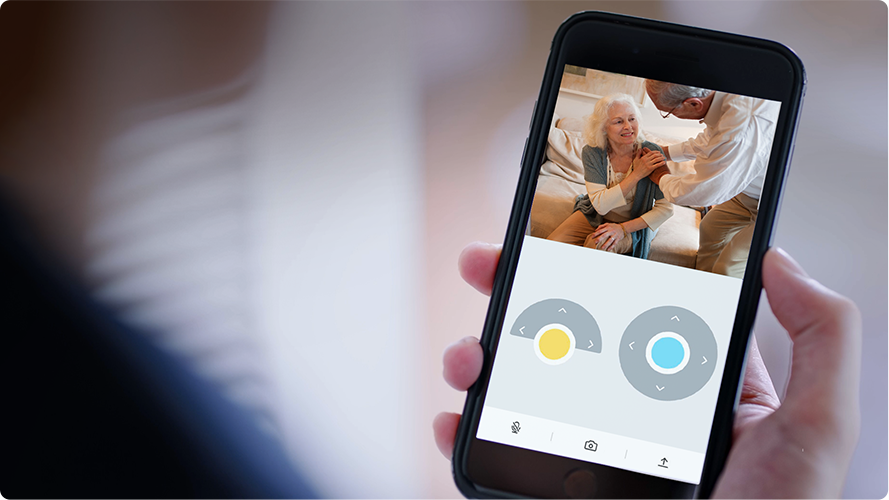 Smart Task Assignment
The platform incorporates intelligent task assignment, efficiently allocating suitable robots based on specific requirements. It can dynamically adjust various elements such as action execution and emotion expressions to enhance the user experience.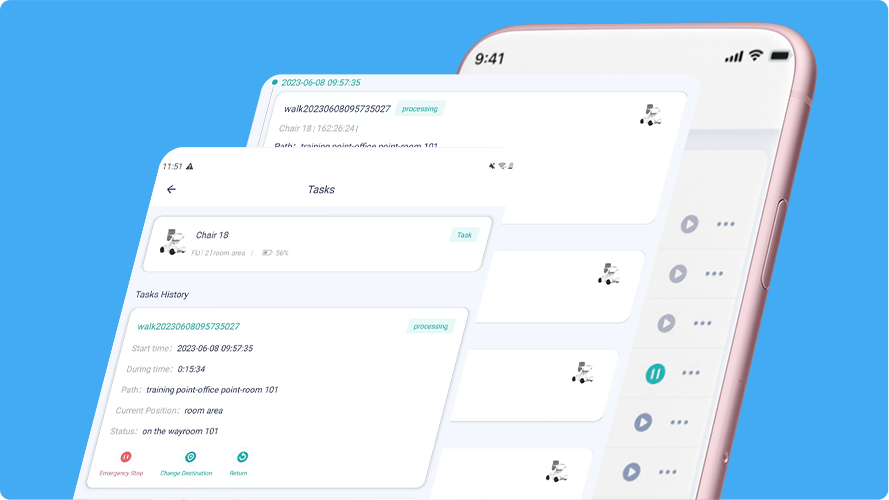 Smart and Efficient Operations
The platform can automatically dispatch the elevator to a specific floor and instruct a robot to perform complex tasks across multiple floors.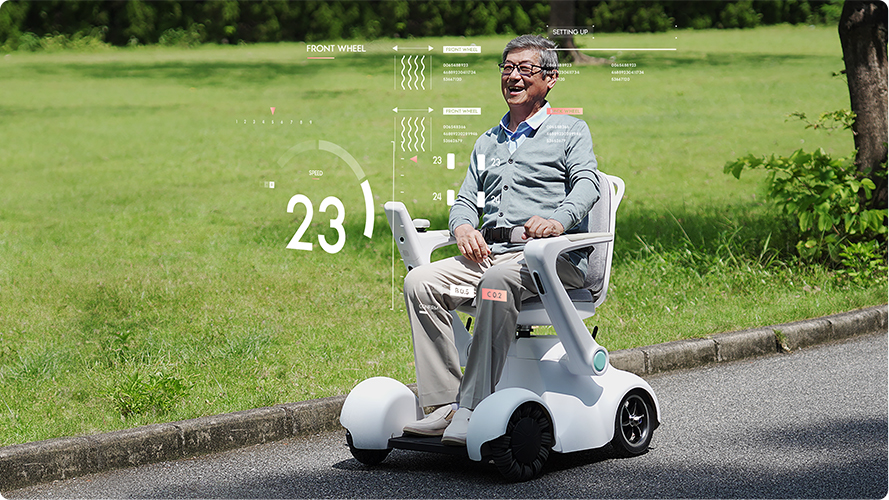 24/7 Support
By deploying smart elder care products, the cloud platform provides unified, comprehensive monitoring and early warning for the personal safety of the elderly, offering round-the-clock high-quality safety and companionship services.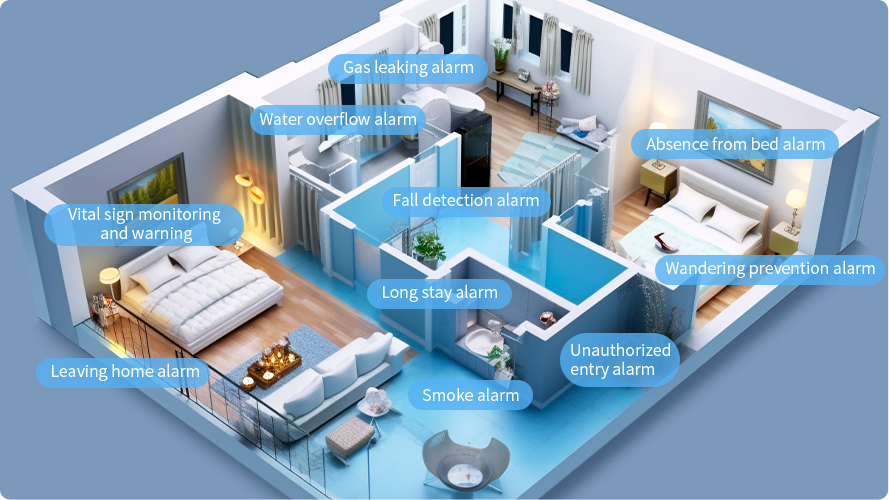 Multi-terminal Notifications
Staff members receive call information and location immediately on the monitoring screen, web interface, mobile phone, and tablet. The audible and visual alarms in the relevant areas will trigger, at the same time. It supports a variety of call methods, such as portable SOS buttons, bedside pull cord alarms, and AI sensor hand waving for help at any time, while recording the entire handling process.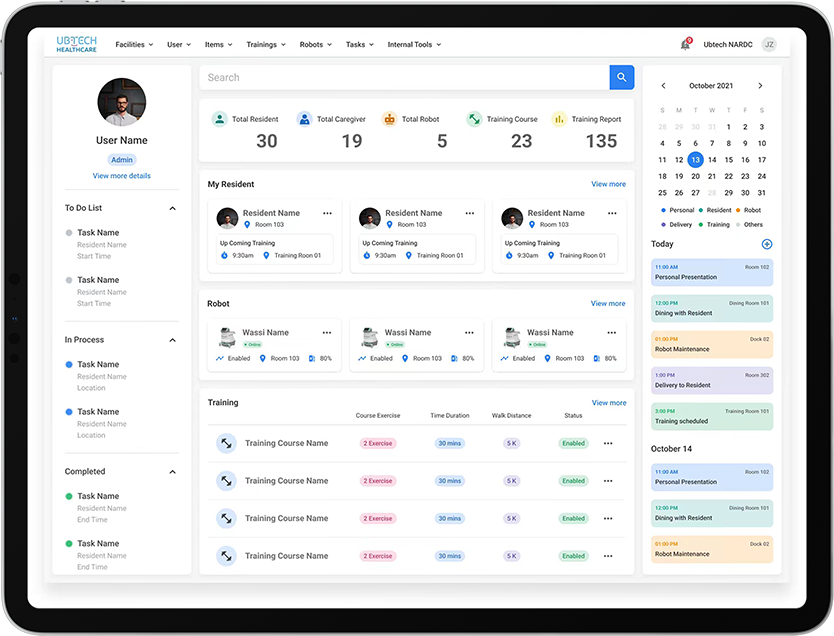 Digital Health Management
Through the use of smart aging products such as unobtrusive sensors, wearable wristbands for the elderly, and smart mattress, we can monitor the health status of the elderly in real time. With the help of big data analysis on the cloud platform, we can achieve digital health management, ensuring the health and well-being of the elderly.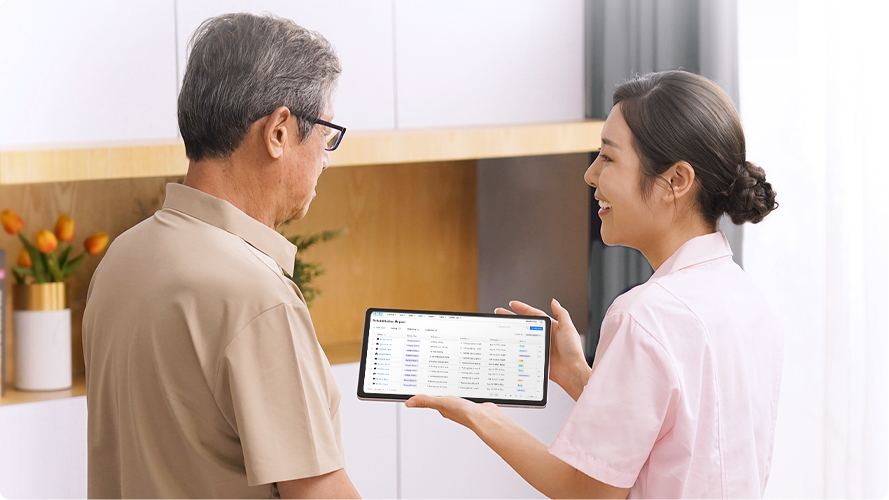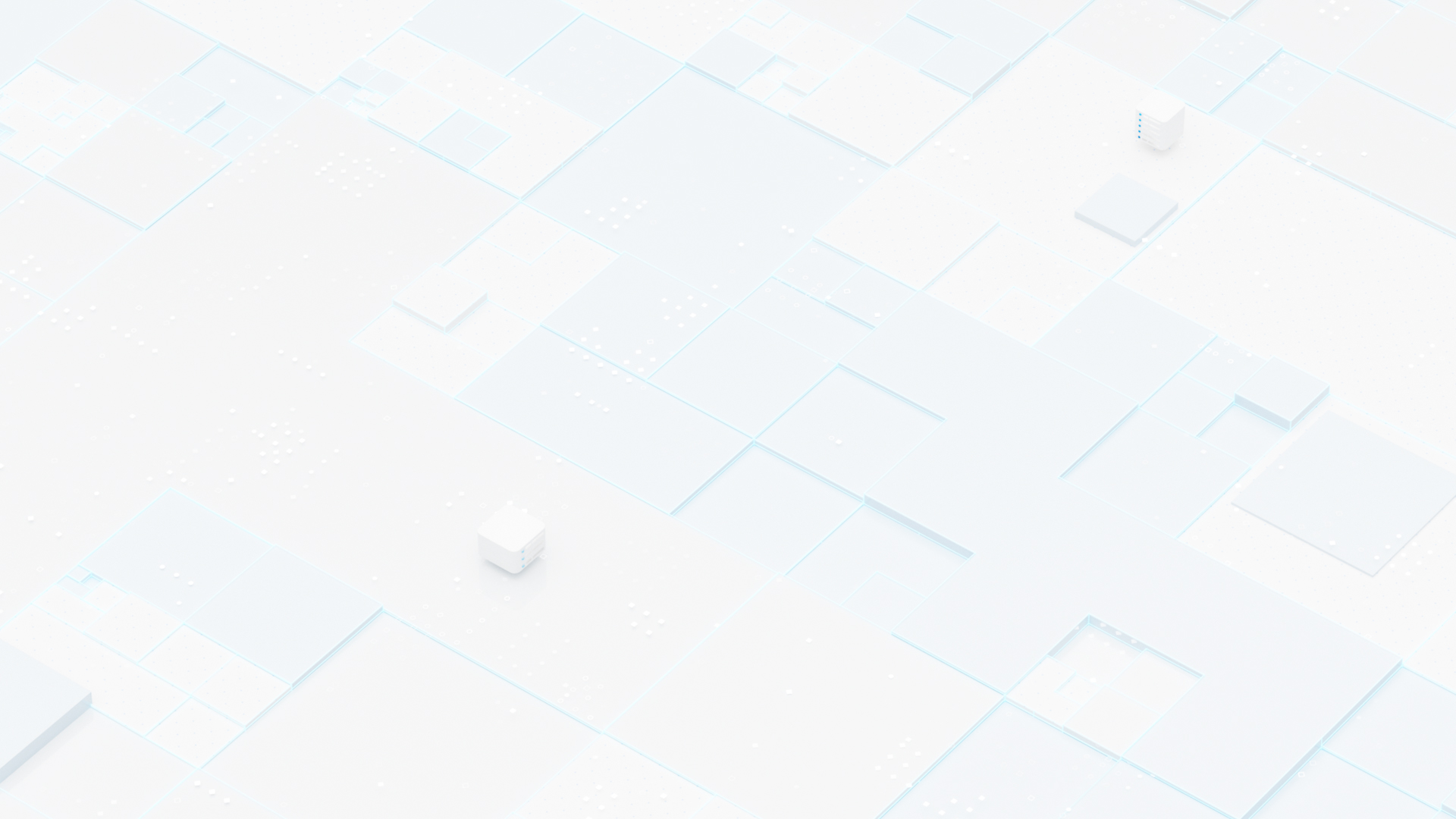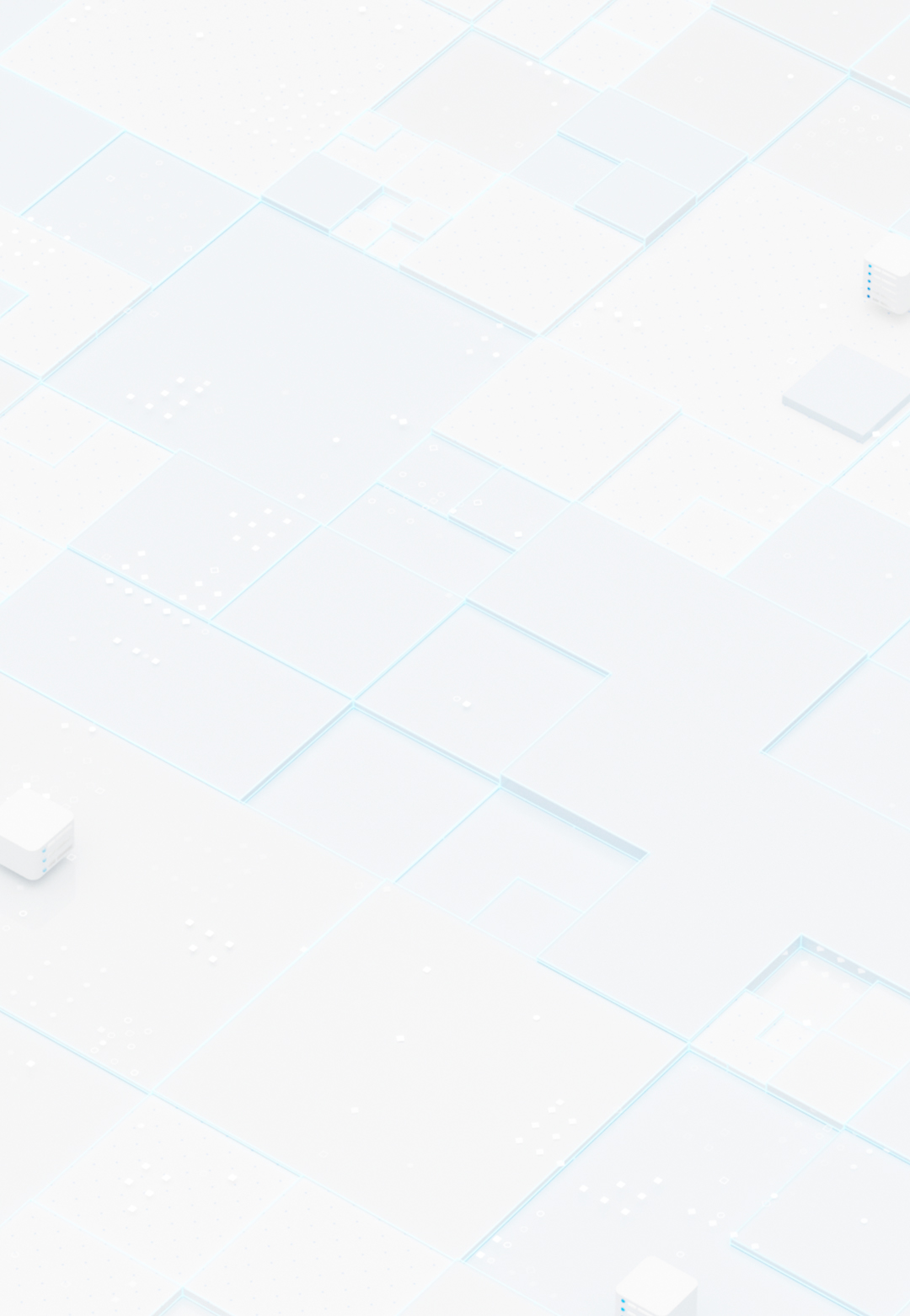 Platform Security
Access Control

The system provides multi-level functionality and authority control to operational personnel, corporate group users, and institutional users. Provides multiple data access permissions for personnel based on one's role and job function.

Transport Layer Information Encryption

All application layer services adopt the HTTPS protocol. The IoT equipment access layer adopts the Modbus protocol, which can perform MD5 and CRC16 verification on packets.

Encrypted Storage of Sensitive Information

AES encryption is used for personal information, health data, location information and encrypt sensitive information such as operation and employee data.

Submit Data Verification

The platform is capable of validating data submitted from mobile terminals, web front-ends, and IOT devices.

XSS Attack Prevention

All data will be filtered through XSS when rendering to the web front-end pages.

CSRF Attack Prevention

All data interfaces for data submission are secured with random strings generated by the server.
Please reach out for more request or become a partner!